Patrick Berry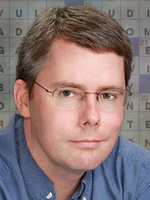 Patrick Berry has been creating and editing puzzles for nearly twenty years. His work has appeared in The New York Times, Harper's, The New Yorker, U.S. News & World Report, and numerous other publications. Former crossword editor of the Chronicle of Higher Education's weekly crossword, Patrick regularly creates variety puzzles for the Wall Street Journal's Saturday puzzle page.
Patrick's puzzle books include Puzzle Masterpieces and Crossword Puzzle Challenges for Dummies.
Over the course of his career, Patrick has created many popular new puzzle forms, including Rows Garden, Some Assembly Required, Boxing Rings, and Snake Charmer.
He lives in Athens, Georgia, in an A-frame house.
You can find Patrick on the web at A-Frame Games