Patrick Jordan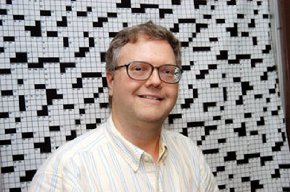 Patrick Jordan is the author of more than 1,500 crosswords, which have been published in The New York Times, The Washington Post, Games Magazine, the Simon & Schuster book series, and many other publications.
Patrick was featured in the theatrically released 2005 documentary "Wordplay," and he was a champion on the game show "Merv Griffin's Crosswords." His outlook on life is described by his blood type: B positive.
Patrick has helped to bring three young couples together through specially commissioned crosswords that contained marriage proposals. He can be contacted for personalized puzzles through his Web site at www.pjscustomcrosswords.com.