Fred Piscop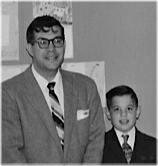 Fred Piscop is former editor of the Washington Post Magazine Sunday crossword. He regularly creates puzzles for The New York Times, The Crosswords Club, Simon and Schuster, Creators Syndicate, and many other outlets. He also creates customized crosswords of all descriptions.
When Fred is not puzzling, he can usually be found running, biking or playing senior softball, playing keyboards at local jam sessions, sampling excellent microbrews, or walking his niece's dog Dina.
From 1958 to 1960, Fred was a student of George Bredehorn in an experimental program which covered grades 4-6 in two years. It was during this time that Fred was introduced to word games and mathematical brainteasers of all sorts.
Fred lives in Bellmore, New York and is a graduate of Cornell University.
Fred can be reached at tihzwa@aol.com.
Visit Fred's website at www.macnamarasband.com.
The photo above shows a young Fred Piscop with his teacher George Bredehorn.