Thomas Snyder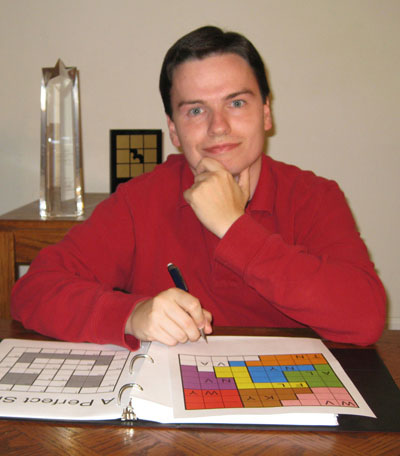 Thomas Snyder first gained notice in the puzzle world by winning the US and World Sudoku Championships (2007, 2008, 2011). He is also a six-time US Puzzle Champion. As a puzzle author, Thomas specializes in hand-crafting artistic, themed logic puzzles, particularly Sudoku and variations. He is the author of eight books of puzzles, and has contributed puzzles to publications including GAMES Magazine and Wired, and written puzzles for events including the World Puzzle Championship, the World Sudoku Championship, the US Puzzle Championship, the MIT Mystery Hunt, Gen Con, and the Microsoft Puzzle Picnic. Thomas is also the founder of Grandmaster Puzzles (www.gmpuzzles.com).
Away from puzzles, Thomas is a scientist developing new medical diagnostics for the immune system.
Visit Grandmaster Puzzles at http://www.gmpuzzles.com/
Thomas's paper puzzle books can be found at Amazon.com.